AIBH Supporter: The Boulders Resort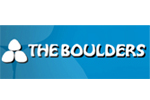 The Boulders is located in Carefree, Arizona, nestled in the tranquil beauty of the high Sonoran Desert north of Scottsdale.
The Boulders Club, a semi-private country club for members and resort guests, features a 6,811-yard, par 72 championship golf course and a 6,726-yard, par 71 championship golf course, both designed by Jay Morrish. The Boulders is world renowned as one of the finest golf resorts in the western United States.
The members of the Boulders Women's Golf Association have held an annual Breast Cancer Awareness Day charity golf event for seven years, of which AIBH has been the beneficiary for the last six years. The dedication of BWGA members, their support and their energy toward the cause is very impressive. They work hard and care deeply.
AIBH is very appreciative of all their hard work and contributions these past 6 years.