AIBH Supporter: Arizona Breast Cancer Specialists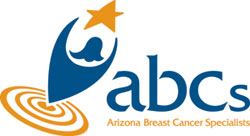 Creating Arizona Breast Cancer Specialists (ABCs), dedicated to exclusively treating women with breast cancer with radiation, has been a dream of Dr. Robert Kuske and Dr. Coral Quiet's for the last decade. ABCs is a first in the world. No other radiation practice has committed its physicians, staff and equipment exclusively for women fighting breast cancer! They have chosen equipment that offers the best types of radiation to direct against cancer; yet allows minimal collateral damage to normal tissues.
Dr. Kuske and Dr. Coral Quiet are Radiation Oncologists who specialize in the treatment of breast cancer. Together, they have 43 years of experience treating this disease in both top tier academic teaching institutions and in private practice and have been honored by the opportunity to help pioneer new developments in breast cancer treatment. As they have worked in the Scottsdale and Phoenix area for years, they have dreamed of building a breast cancer specialty clinic. Today, that dream has been realized!
Every element of ABCs has been selected with one overriding priority: absolute and uncompromising excellence! Their practice has been designed to provide women the highest quality of cancer treatment while providing the respect and solace every patient with breast cancer deserves. Dr. Kuske and Dr. Quiet have hand-picked each and every person in this clinic: from the PhD physicists overseeing the technical aspects of practice, to the experienced and dedicated nursing staff, and to the skilled and supportive office staff; every single person is a professional at the very top of his or her game. They have spared no expense in choosing only the very best technology, engineered by the most innovative and experienced companies in the world. Each staff member and piece of equipment is impressive in its own right, but when joined together with the dedication of the collaborating physicians, and the spirit and resolve of their patients, they have created a true team of champions for the fight against breast cancer.
They are experienced in all facets of breast cancer radiation therapy and are recognized for our work with conventional external beam radiotherapy. One of their areas of particular expertise is breast brachytherapy, a relatively new technique they are proud to offer to appropriate patients with early stage breast cancer.