This year, more than 3,900 women in Arizona
will be diagnosed with breast cancer.
How many of these women will you know?
What will you do if you are one of them?
Our Mission
Arizona Institute for Breast Health (AIBH) is a 501(c)(3) non-profit organization whose mission is to provide
all
women diagnosed with breast cancer, timely options for care, education and support before decisions have to be made,
completely free of charge.

Our Medical Board
Formed by a consortium of medical professionals who are breast cancer experts, AIBH was created to give women the opportunity to receive information and education about the best possible treatment for their specific breast cancer. Our program addresses all issues involved with the disease, allowing women to make an informed decision on their treatment options in a timely and expedient manner.

Our Specialties
Our volunteer team of physicians and medical professionals have a deep and abiding commitment to raise the level of compassion and improve treatment outcomes in the breast cancer arena. Their specialties include:
Dedicated Breast Radiology
Breast Surgery
Medical Oncology
Radiation Oncology
Reconstructive Surgery
Breast Pathology
Oncology Rehabilitation
Our team evaluates the best medical and surgical options for the preservation of a woman's life, body and emotional well-being, as well as the continued quality of her life. In a caring and objective manner, the team will provide a comprehensive evaluation and recommendations for treatment.

Our Patient Advocate
The Patient Advocate at AIBH organizes the breast cancer cases for weekly discussion and supports each patient through the process. The volunteer governing Board of Directors oversees strategic planning for the Institute and meet regularly to coordinate fundraising, media and marketing details, corporate and private donors, and website updates.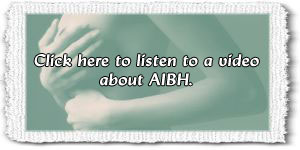 Our Goals

To provide treatment options to women who have been diagnosed with breast cancer in an expedient and objective manner, completely free of charge
To educate women about their specific breast cancer in a caring and supportive environment
To assist women in becoming their own patient advocate
To raise the level of compassion and improve treatment outcomes in the breast cancer arena

Additional Support and Services Include:

Counseling
Support as Needed
Resource Information