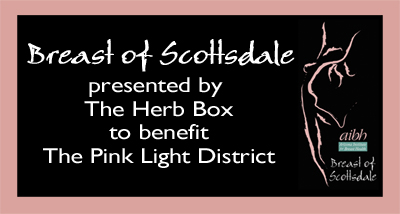 It is the PINKEST party The Valley has ever seen!
What:

The Herb Box in downtown Scottsdale, in partnership with Belvedere Vodka, is pleased to present the second annual
Breast of Scottsdale
, a kickoff to
The Pink Light District
initiative, which will benefit the Arizona Institute for Breast Health. During this special event, the community is invited to sip and sample delicious pink-themed food and drink menu items while enjoying great music and interactive photography by The Live Photobooth. A Pink Ribbon Raffle will also be one of the highlights with fabulous prizes, such as two night stay at The Point Hilton Squaw Peak, a one night stay plus spa treatment and dinner for two at The Different Point of View and a Wine Gift Basket from Total Wine, just to name a few. All proceeds from this event will benefit the organization's Pink Light District.
All guests are also able to take advantage of the regularly priced wines, beers and cocktails as well as traditional menu items during the event.
Take a look at some highlights planned for the party as told on ABC TV with our Executive Director, Christine Fenwick and the gals from The Herb Box!
CLICK HERE
to watch!

When:

Tuesday, September 10, 2013
From 6:00 p.m. to 8:00 p.m.
Where:

The Herb Box
7134 E. Stetson Dr., Suite 200
Scottsdale, AZ 85251
480-289-6160

Attire:

Think Pink, of course! Prizes for most fabulous, zany and creative pink ladies and gentlemen will be presented during the fun.
Click here
to see some fun photos from last year!
Cost:

A $25 donation that will be used to sponsor a "Pink Light," which will honor a loved one of the guest's choosing touched by breast cancer. These lights will illuminate the Marshall Way Bridge in Scottsdale starting October 3rd and throughout Breast Cancer Awareness Month in honor of all those we love impacted by the disease.
To register for the event,
CLICK HERE
and sponsor your lights.
During the Billing Information section, you will be asked to confirm your reservation to the Breast of Scottsdale. Your tickets will be emailed to you with your Pink Light confirmation packet. All major credit cards are accepted and all Pink Light sponsorships are tax deductible.